The University may place a hold on your account from time to time which can block registration for a future term or have other service impacts. These holds, sometimes referred to as service indicators or tasks represent notes or actions related to your student profile that need to be resolved. For example, you may have a hold because you owe more than $499, and your registration is held until you satisfy your balance, or you may have a hold because you need to pick up an academic graduation check. Other holds that don't impact registration may prevent you from receiving a refund until you provide direct deposit information to the University, or may serve as notifications rather than true holds.
Below, we'll discuss the ways in which you can identify that you have a hold. You can use the navigation menu to the left to find an index of "Registration" and "Other" holds to identify which department you need to speak with to resolve your holds. 
How do I know I have a hold?
There are a number of ways that you can identify that you have a hold! 
On the MyFSU Portal
When you login to the MyFSU portal (https://my.fsu.edu), if you are looking at your "student" persona, one of the first things you'll notice on the right side of the screen is a "My Tasks" portlet. Here you'll find your holds and your to-do items. By clicking on the "Holds" header, you can expand your holds to read more about them: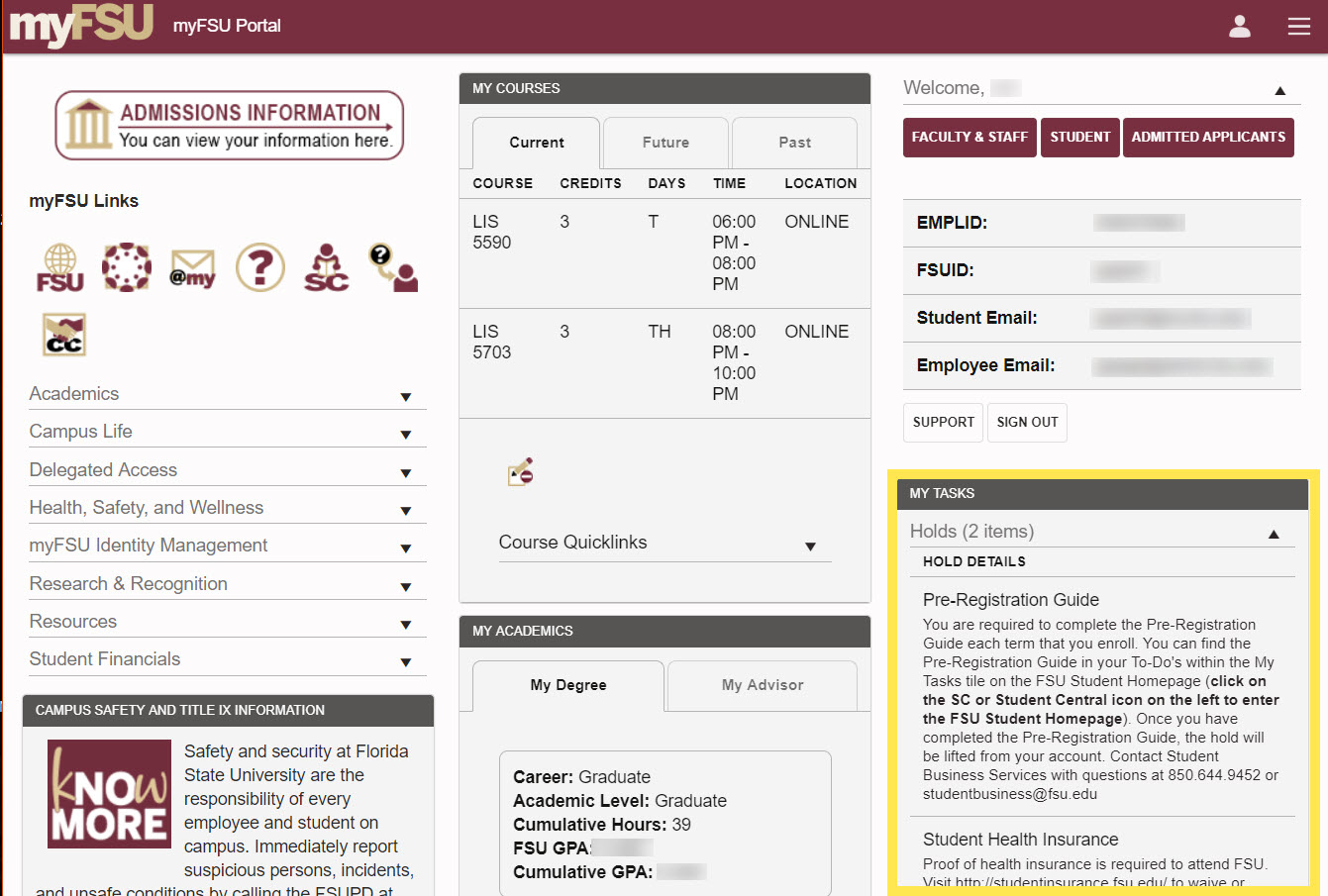 On the student central fsu student homepage
When you click on the "SC" icon from the MyFSU Portal, you'll be dropped onto the FSU Student Homepage of the MyFSU administrative system-- the system where you register for classes, pay your fees, view or modify your financial aid, etc. If you're on the FSU Student Homepage (hint: if you're a faculty/staff person, you may have to click the white 'FSU Faculty/Staff Homepage' text in the garnet header bar at the top of the page to swap to the FSU Student Homepage), you'll notice a "My Tasks" tile. Click this tile to access your holds and to-do lists.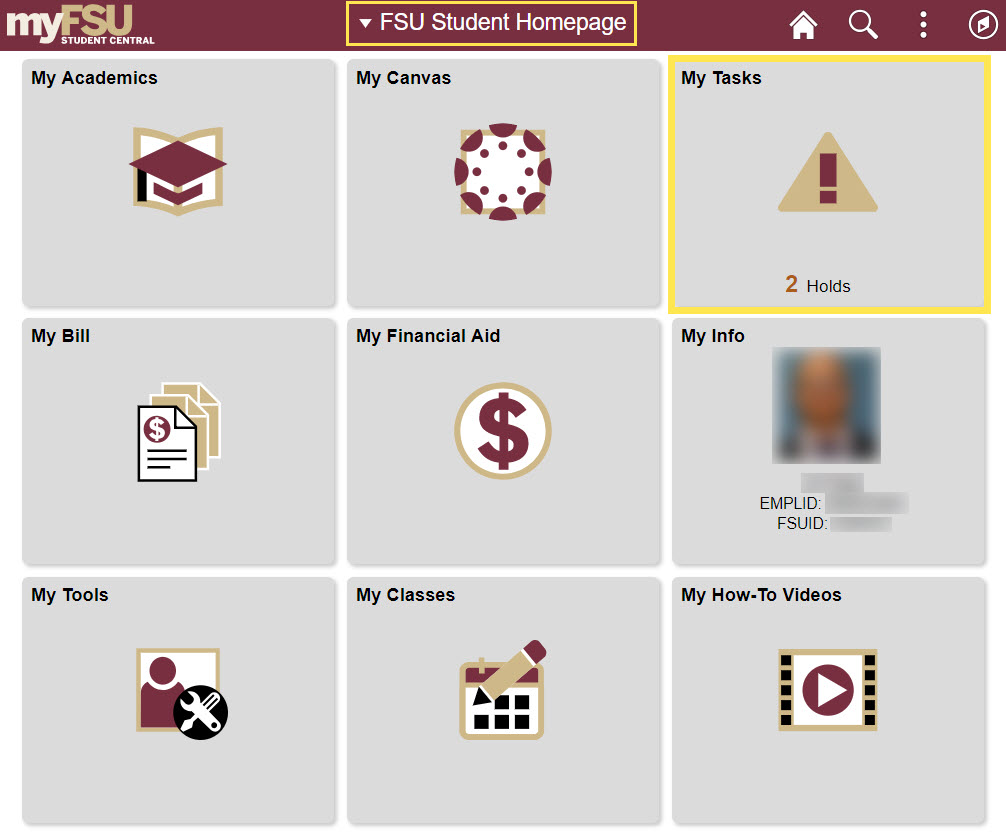 Inside the "My Tasks" tile you'll find your to-do list items, holds, and completed Financial Responsibility Agreements (if you want to find them later). You can read more about a hold by clicking it, or can complete most to-do lists by clicking them.

While Adding Classes
You may not know that you have a hold on your record until you try to add a class for the upcoming semester and get an error. When adding classes through the Enrollment: Add Classes page under your "My Classes" tile, you may see an error like this one, which means that you have a hold that is preventing you from registering: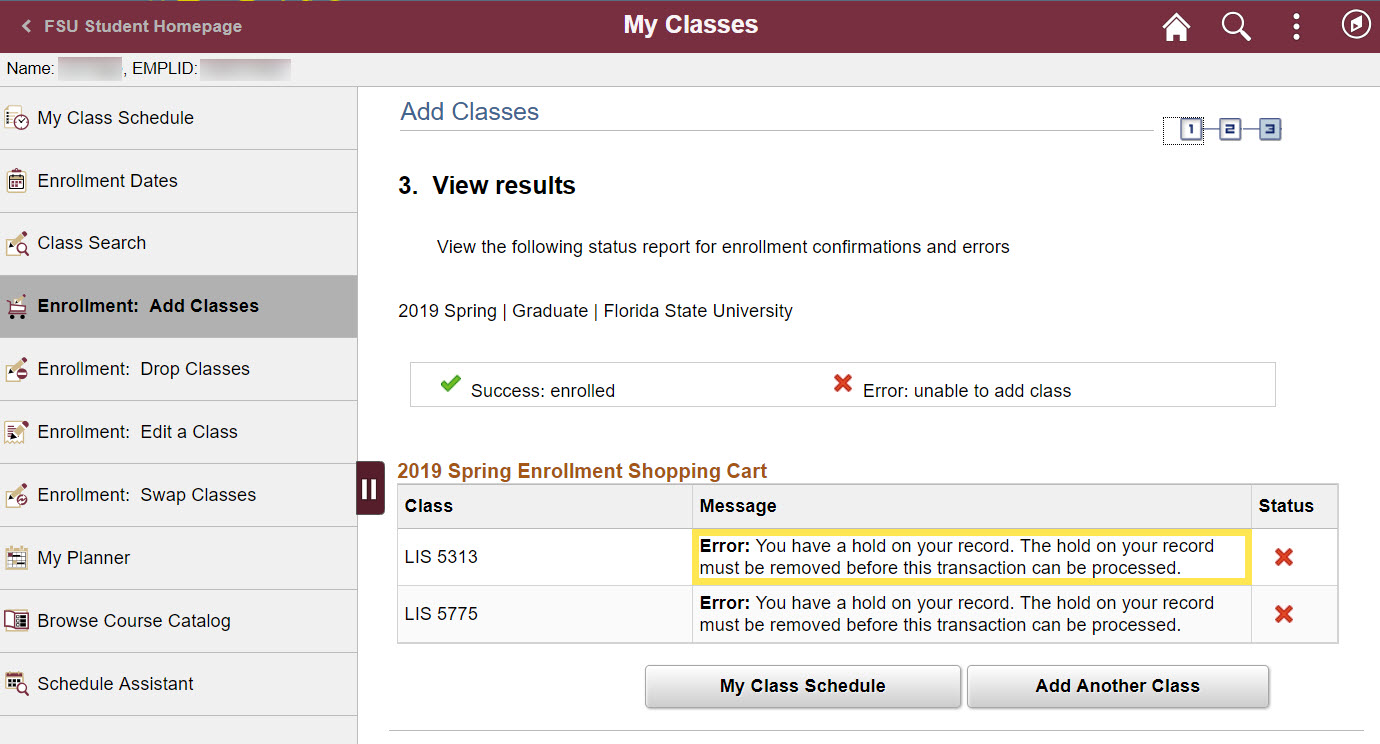 Because you can't see your holds from this page, you'll need to navigate back to the MyFSU Portal by clicking on the three white dots at the top of the page and selecting "MyFSU". Once you're on the portal again, you can click on the "Holds" header to view your holds. You can also find this information by clicking the home icon and then the "My Tasks" tile.
Important Note: If you've looked at your holds and the resources on this website and are still not able to identify how to resolve them, reach out to our team and we will help you find the right contact to resolve your hold - studentbusiness@fsu.edu.