All students must enroll in direct deposit!
Enroll in direct deposit through your my.fsu.edu account and we will send your refund to any domestic bank! Any student might qualify for a refund, so tell us where to send your money
You might earn a refund if:
you receive financial aid in excess of your FSU bill, or
you overpay for classes, or
you receive a credit for a fee you already paid (e.g. successfully appealing a citation)
NOTE: If you are a delegate trying set up direct deposit for your own personal account, please use the instructions under Parent Resources.
Log into your my.fsu.edu account
Pull up your Student Center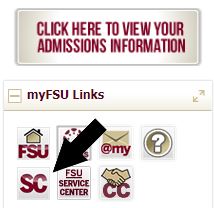 Click My Bill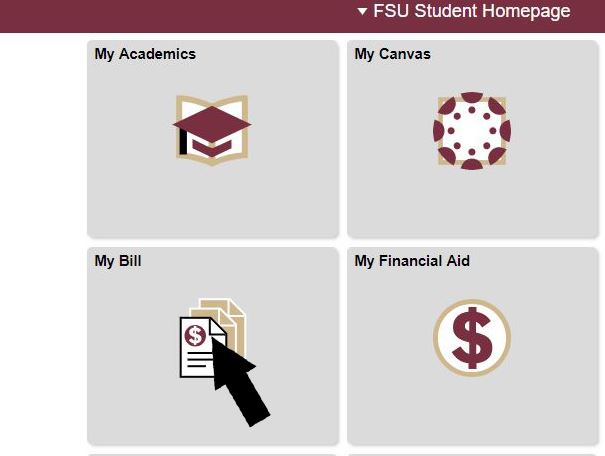 Click the "Direct Deposit" tab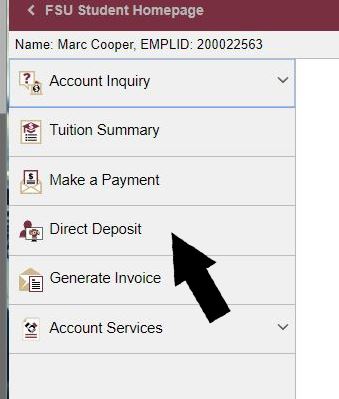 Then click the "Enroll in Direct Deposit" button.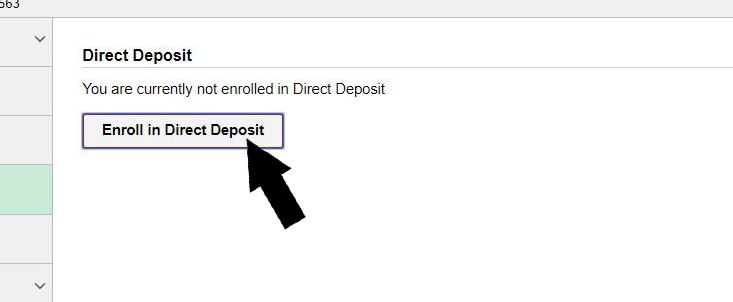 Enter your bank account information
1: You'll want to be sure that you are extra careful when entering your account and routing numbers, that's why we ask you to do it twice! If you enter a bad account number, your refund may be delayed while we work with your bank to get your funds to the right place. 
2: The "Checking" or "Savings" buttons matter! Be sure that you select the right designation for your account type, or your bank may reject our deposit and delay your receipt of funds.
3: The NACHA agreement date defaults to the first date that you every signed a NACHA with the University. If this is the first time you've added a bank to Student Central, your agreement date will be today's date.
***Refunds will only be sent to one bank account and cannot be split between accounts. You can, however, update your bank information at any time. Historic refund bank account information will be encrypted and retained to protect your privacy and to maintain complete University records.
Update your bank account information right away! Updates prior to 10am will take effect the same day. Updates completed after 10am will not take effect until the next day. That means that if you complete these steps prior to 10am on the day a credit posts to your myFSU account statement, we will send the refund to your updated account. Otherwise, we will use your previous refund method.
FSU maintains a special relationship with our campus SunTrust bank and SunTrust will play a role in facilitating transfers to other banking institutions. If you request your refund to a SunTrust account, your funds will be available the next business day after we issue your refund. As deposit processes vary by bank, it might take an additional 2-4 business days for other banks to process and post your refund.
title-inside title-centered
2