What is the Follett Access textbook program?
Follett Access is a partnership between Student Business Services and the FSU Bookstore that allows you to rent or purchase digital textbooks at a reduced cost. The charge is posted directly to your MyFSU Tuition and Fees bill and can be paid along with your other University charges or using financial aid. 
How do I access my materials?
If you sign up through Follett Access, you'll receive an email from the FSU Bookstore the week before classes begin. This email will have a subject line of "Activate Your Digital Content", which will contain an activation link, or "Your Digital Books Have Arrived", which will contain an access code. 
If your email contains an access code, login to your course in Canvas and follow your instructor's directions to register your code.
How do I know if I'm eligible for Follett Access?
You'll receive an email from Student Business Services describing the program and benefits, followed by an email from the FSU Bookstore with login information if you are enrolled in a course that is Follett Access eligible.
If you are a student athlete whose books are covered by the Athletics department, or if you are a sponsored student whose government or other entity pays for your expenses, you may not be eligible to participate. Check with your sponsor or Athletics coordinator before you sign up.
When do I need to sign up by?
Each Follett Access sign-up period will have its own set of required dates which are communicated to you in emails and through the Follett Access portal. In general, you'll receive your first notice that one or more of your courses in Follett Access eligible a few weeks prior to the start of a term. You'll then be given a date by which you have to sign up in order to participate.
How do I sign up for Follett Access?
You'll receive an email from the FSU Bookstore (Follett) with a link to sign up for the program around 30 days prior to the start of the semester. Following the instructions outlined in that email, signing up for Follett Access is simple!
Step 1: The Follett Access Email
When you receive the Follett Access email, click any of the Access Your Account & Opt-In links to begin the process. 
***Important***
If you received the link via an email, you can skip directly to Step 4, as your identity is identified via your email. If you do not go through the email, continue onto Step 2.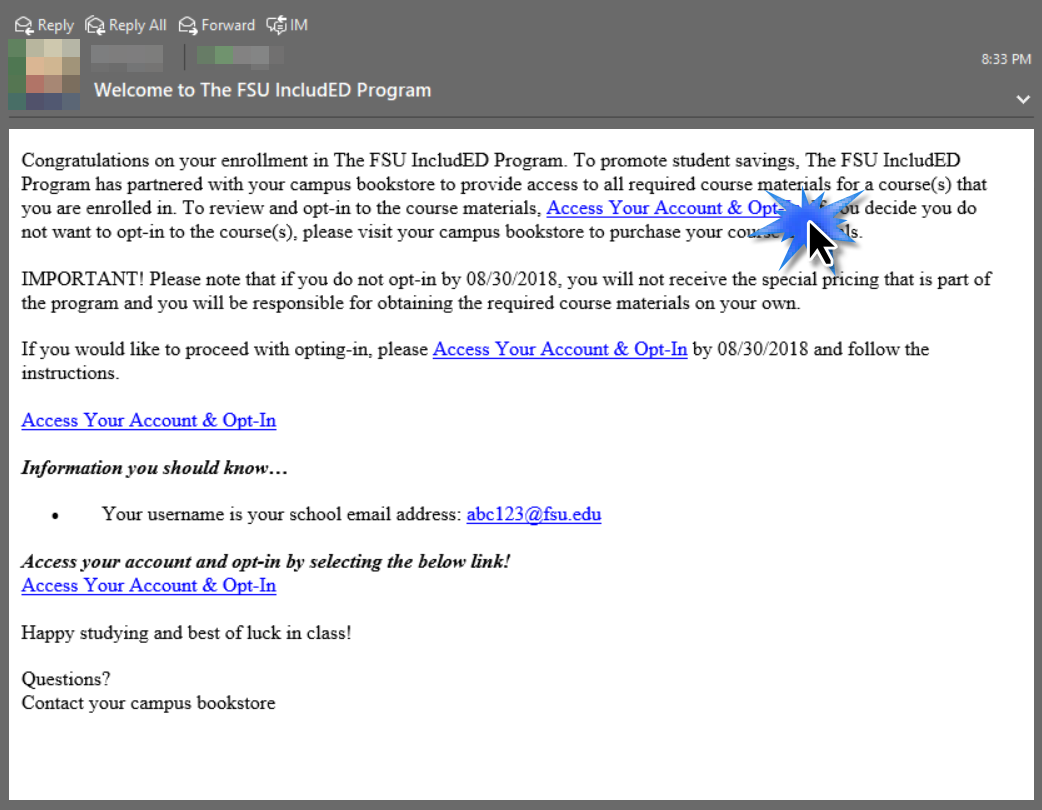 (Optional) Step 2: Log in to Follett Access
Enter your FSU email address (included on the FSU Bookstore email) to access the Follett Access site.

(Optional)Step 3: FSU Bookstore authentication
After entering your email address you'll be sent an email from the FSU Bookstore with an additional link that will authenticate you into the Follett Follett Access site. This helps to ensure that someone else isn't accessing the site using your FSU email!
Step 4: Selecting your material
In the Follett Access system you'll be presented with any course that you are enrolled in which participates in the Follett Access program. You can easily see the cost of the material for the course, view the material itself, and opt-in to the purchase right from the Follett Access dashboard. 

Step 5: Verifying your opt-in status
Once you've elected to opt-in for a course, you'll be presented with confirmation along with a delivery time at which point you'll receive access to your material. Courses you've opted-in to will appear grey on your screen, while courses you've yet to decide on will be blue.

What will the charge look like on my MyFSU bill?
Once you've opted-in to the program, the FSU Bookstore will send your information to Student Business Services and a charge will appear on your MyFSU bill for the total price of all materials and courses for which you've opted-in. The charge will appear under the description FSU Bookstore eBook on your bill. You can pay for your book through the MyFSU portal or allow it to be covered by your financial aid when it disburses. 

How do I access my course materials once I've opted-in?
If you opt-in to the Follett Access program, you'll receive an email from the textbook publisher to your my.fsu.edu email address with instructions for accessing your text the first week of classes. 
What happens if I drop a course after I opt-in?
If you drop your course before the end of the University drop/add period, your charge will be removed and your access to the course materials will be revoked. If you drop or withdrawal after the initial drop/add period, you'll need to contact the FSU Bookstore to discuss options.
Who do I contact if I have questions about Follett Access?
You can reach out to Student Business Services for general questions about timing and fees, but specific questions about pricing, drops, withdrawals, or other issues should be directed to the Textbook department at the FSU Bookstore. 
title-inside title-centered
2