Private Scholarships are a financial resource current or prospective students can utilize to assist in offsetting the cost of their education. Private Scholarships are awarded by various businesses, charities, churches, banks, clubs/groups, foundations, etc. These Scholarships are based on various academic qualifications, talent, special interests, and a variety of other qualifications.
Student Business Services disburses over 7,800 awards totaling over $13,000,000.00 each year in Private Scholarship funds. You can find a comprehensive list of scholarship donors here: Scholarship List
***IMPORTANT REMINDER***
These private scholarships sometime take time to respond. If you are doing this as a quick fix because you have received a cancellation notice, or are looking for quick results, you may want to research different avenues for solutions. We cannot guarantee you will receive ANY funds within any deadline. You are also responsible for signing up for the scholarships. We merely provide a service to match you with potential scholarship opportunities.
Students
Private Scholarship Checklist
Did you report your Private Scholarship award to the Office of Financial Aid as a financial resource?
Did you submit all requested documents to your donor to ensure timely disbursement of  your private scholarship funds?
Did you endorse the private scholarship check payment if it was made duly payable to you and FSU?
Donors
SBS is happy to assist donors in facilitating the disbursement of private scholarship funds to our students. To ensure timely disbursement, please make sure all checks are made payable to Florida State University. Be sure to include the student's full name, student ID, the term for which the funds are for, and a memo with any additional requirements for the application of the scholarship funds.
Would you like SBS to include your scholarship in our database or have questions about the private scholarship disbursement process? Contact our staff listed below.
Corey Sebring                             Lindsay Allen-Ruiz
(850) 644.1264                 or           (850) 645.7821
csebring@fsu.edu                             llallen2@fsu.edu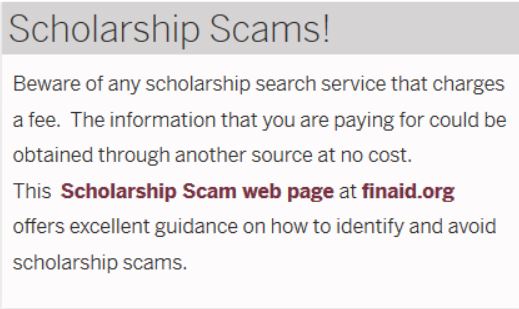 All Private Scholarships should be mailed to: 
Office of Student Business Services
Attn: Private Scholarships
A1500 University Center A
Tallahassee, FL 32306-2394
Disclaimer: FSU is pleased to provide these external private scholarship listings for informational purposes only. We cannot, and do not, endorse or recommend any scholarship website or private entity offering scholarships.  Any decisions regarding scholarship applications and acceptances of scholarship offers belong solely to the applicant.  Please ensure that you fully research any scholarship opportunity prior to application or acceptance. 
title-inside title-centered
2