The Account Inquiry Folder
When you click on the My Bill tile in the FSU Student Homepage, you'll land on "Account Balance" in the Account Inquiry folder. The Account Inquiry folder provides you will four views that you can use to understand what's happening on your account. Check out detailed information about each view below!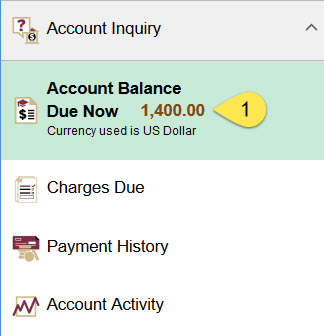 1: The Account Balance view in your navigation collection will show you how much is "due now" on your account. This value might not match the charges you are seeing on your account, because it does not include any charges due more than 30 days from today!
Account Balance
The Account Balance page provides a summary overview of your account by term.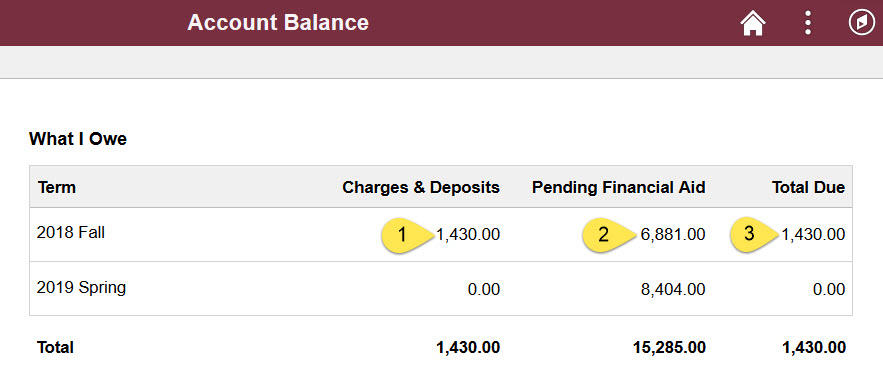 1: The Charges & Deposits column is a summation of your current outstanding charges for each term.
2: The Pending Financial Aid column provides you with a quick snapshot of the amount that the Office of Financial Aid has on file for you for the term. You should be able to compare this number to your My Financial Aid Award Summary. This number is not subtracted from your overall balance until it disburses.
3: The Total Due column is the sum that we believe is currently due for each term. This number does not take into account any pending financial aid.
Charges Due
The Charges Due page provides both a breakdown of outstanding charges by due date, but also a detailed description of what is due on each date. You can also find details behind your Pending Financial Aid here.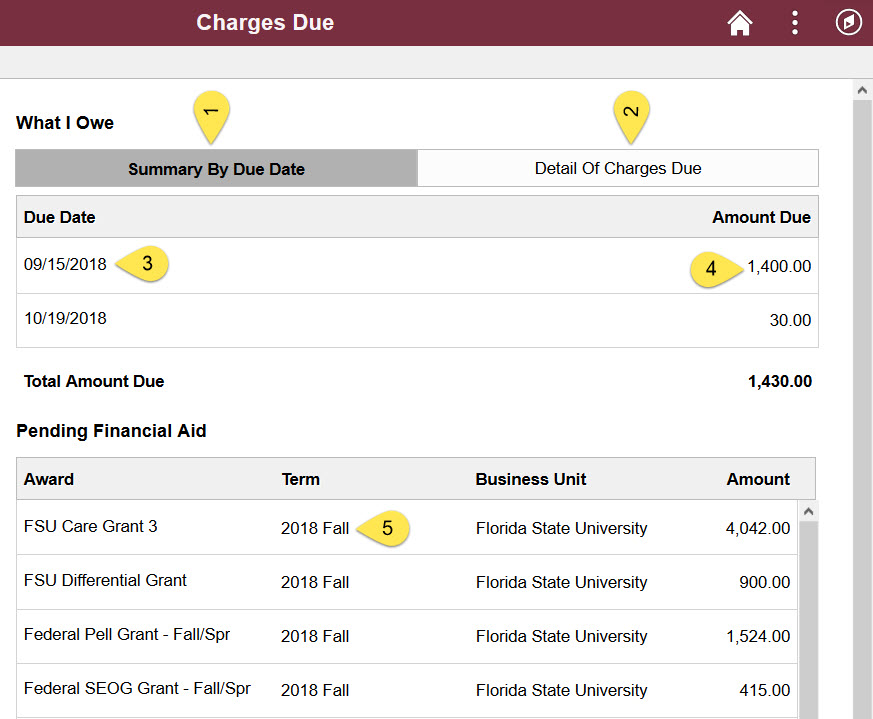 1: The first thing to note on this page is that there are two tabs-- the Summary By Due Date tab will provide you with a summation of outstanding charges due by due date as well as your Pending Financial Aid details.
2: The Detail of Charges Due tab will provide you with a breakdown of each charge and its due date information.
3: The due date of each charge will be listed here, and due dates that simply say "Future" refer to charges due more than thirty days in the future.
4: The Amount Due column refers to the amount of charges owed with this due date.
5: Your Pending Financial Aid will be sorted by term, so be sure that you are looking at the right term before relying on potential disbursements that may not come until next semester!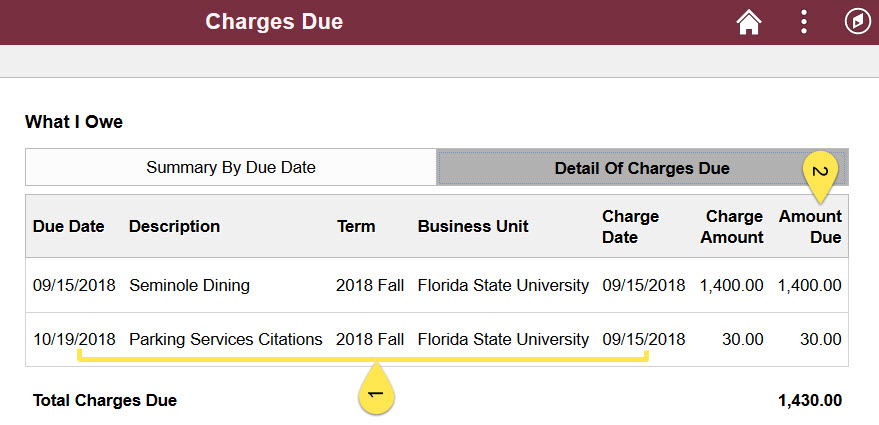 1: The Detail of Charges Due tab will display two dates-- the Due Date (the actual day that your payment is due) and the Charge Date (the actual day that the charge was first posted to your bill). 
2: The Amount Due is the amount that is still outstanding for this charge, and may differ from the Charge Amount, which is the total value of the charge at the time that is was first posted (before payments).
Payment History
The Payment History page provides a line-by-line view of every payment you've made to your University bill.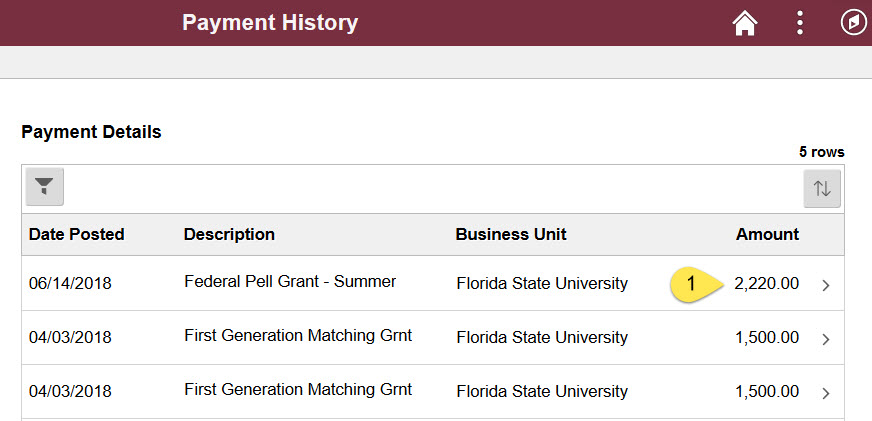 1: You can click on a line to see exactly which charges that payment paid. This can help you track how your money is being used!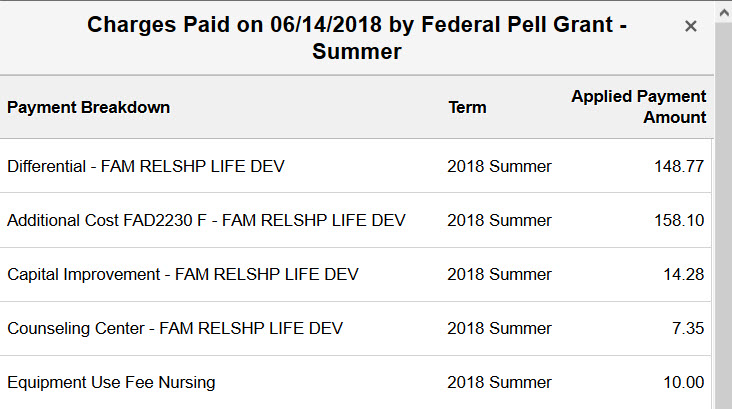 You can see that your payment has been used to pay the charges listed, for specific terms, and for specific amounts. The new My Bill provides you with the exact fees that a payment paid in tuition instead of just using the word "Tuition". In the example above, a Summer Pell Grant was used to pay the Differential Fee, Additional Cost, Capital Improvement, and Counseling Center fee for a Family Relationship and Life Development class, as well as the general Nursing Equipment fee for this Nursing major. You can find more information about the fees that make up tuition on our Tuition page. 
Account Activity
Finally, Account Activity is a large view of all activity on your account, including charge posting, charge reversals, payments, payment reversals, waivers, billings, and refunds.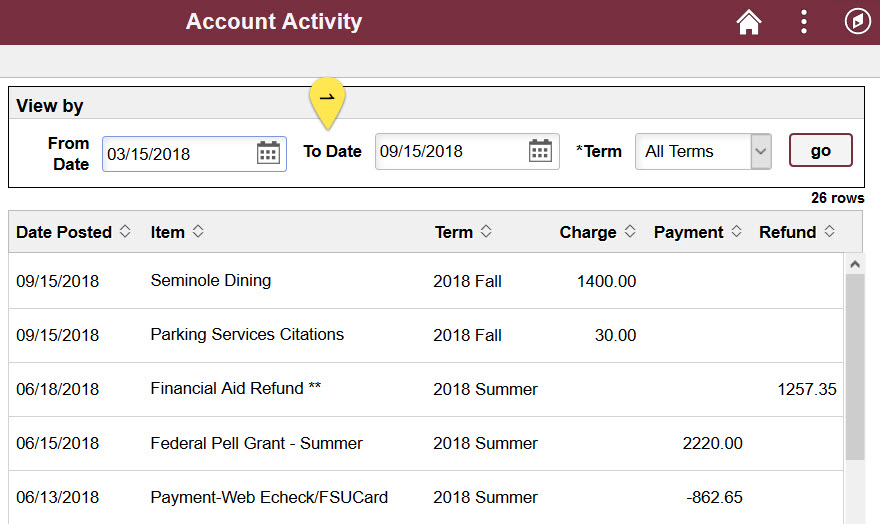 1: You can sort account activity using any of the column headers on the table, or search for specific date ranges within a term using the "View By" filter feature at the top of the page!